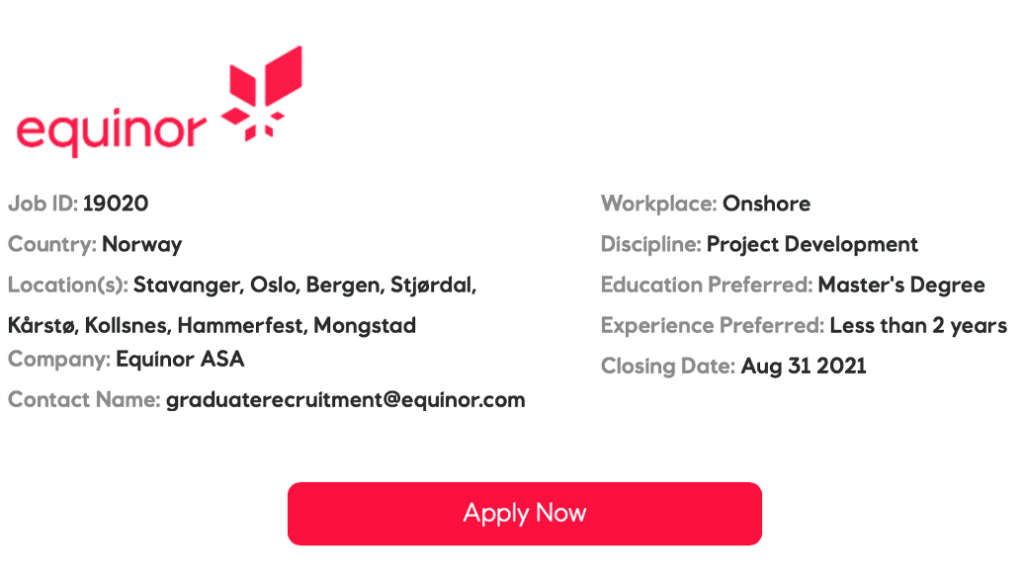 Job description:
As graduate at Equinor, you'll be joining 20,000 colleagues delivering oil, gas, wind and solar power to 170 million people worldwide. By 2050, we aim to become a net-zero company and deliver the energy the world needs without contributing to global warming. It's one of the defining challenges of our time and attracting and developing the brightest minds will be critical to our success.
The position
Our Corporate Graduate Programme is aimed at master's or PhD applicants from both technical and non-technical backgrounds. To be eligible you must have graduated or be able to graduate by the end of 2022.
You'll join us on a 2-year programme that includes rotations of 3-12 months across functions, business areas or locations. We can't guarantee where each rotation will be, but wherever you land, we'll provide you with the tools and the experience required to develop into a specialist in your chosen field. This includes access to a mentor and a buddy, learning sessions to get to know our business, and plenty of opportunities to network and share experiences with your peers.
Participate in developing and operating our offshore or onshore facilities for oil, gas or renewable energy production from feasibility studies, through engineering and construction, to operation and removal.
Discipline responsible in project development, modifications, maintenance and operation in collaboration with contractors:
Marine structures (Floaters, jackets, topside, wind turbine foundations etc). Follow up engineering deliveries of structural design and analysis.
Onshore facilities (Buildings, infrastructure, tunnels, quays, water-, wastewater-, and drain systems etc). Responsible for Technical integrity of equipment and systems, preventive maintenance programs and condtion surveys within own dicipline.
Interested to explore where else you could start your career in Equinor?  You can read more about the various disciplines we recruit for here: https://www.equinor.com/en/careers/our-graduate-disciplines.html
You
Some qualities are essential for Equinor. You identify with our values, open, collaborative, courageous and caring, which guide our decisions and help us succeed and grow. You make safety your priority and contribute to our zero-harm culture. For this position, we are also looking for:
Master's degree or PhD with good academic record within Civil engineering, Marine Structures, Structural engineering
No more than two years of relevant fulltime work experience
Fluent in English and preferably a second working language
Extracurricular activities and/or voluntary work is an advantage

Your personal qualities:
Ability to live by our safety and security expectations
High ethical standards
Good communication skills
Global mindset
Team player with the ability to work and deliver results in a diverse environment
Have a positive attitude to take on new challenges and adapt to dynamic environments
Equinor is an equal opportunities employer and we welcome applications from all candidates who meet the educational and experience requirements, including candidates with disabilities. If you have any specific requirements for any stage in our process, then please make this clear in your application and our team will be happy to support you.
General information
Please make sure that when applying, you attach the following:
CV/ resume in English
transcripts of records (or other documents describing subjects and grades) obtained to this point during your studies in English or Scandinavian language. If you are in the process of completing a degree, please upload an official temporary transcript.
Applications submitted without these attachments will unfortunately not be evaluated.
To ensure an efficient recruitment process, please be informed that you may apply for a maximum of three Graduate roles per country.
Candidates are expected to openly offer all relevant information about themselves during the recruitment process. All permanent and temporary hires will be screened against relevant sanctions lists to ensure compliance with sanctions law.
Why join us?

To succeed together, we all need to feel able to perform at our best.  That's why we offer:
• Learning and development. Ensuring our people are always learning and developing will be essential if we want to deliver on our ambitious targets. As a graduate, this means on-the job-training and mandatory physical and virtual learning modules, work rotations, networking opportunities and access to courses offered by our Equinor university.
• Wellness and work-life balance. Ensuring that our people feel supported, valued, and healthy is important to us. That's why our benefits packages are designed to help you balance work and life at all stages of your career, including health insurance for your physical and mental wellbeing, a flexible working policy and a global parental leave policy.
• An inclusive culture. An inclusive culture allows us to harness the unique experiences, knowledge and backgrounds of our 20,000 employees. Ultimately, we believe we'll be more creative, innovative, and resilient if everyone in Equinor feels safe in bringing their whole self and their ideas to work.
• Financial rewards. Equinor's compensation package includes a fair cash compensation and an opportunity to join our share savings plan. In most of our locations we offer pension arrangements aiming to safeguard our employees after retirement.
For more information visit Equinor's website: https://www.equinor.com